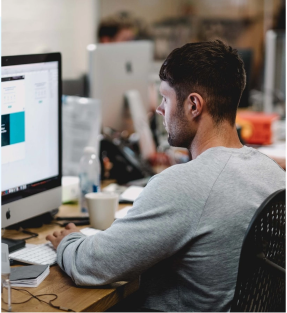 So by now, you should have a pretty good understanding of how well WordPress and SEO work with each other.  In our last post, we talked about plugins you could take advantage of.  You're also up to date on some of the best third-party plugins and services that can really boost your SEO efforts.
But what about those of you that want to take things to the next level? Whether you're a first-time user or a WordPress development expert, there's always room for improvement!
Some of the tips below translate just fine over to other types of websites, but everyone with a site powered by WordPress should consider these advanced tips below:
Set Your Preferred Domain
Well, we shouldn't use the exact verbiage above because it's a little outdated, but the idea still stands. You used to be able to go into Google Search Console and set your preferred domain, with or without www. after the http or https.
Check out the Google Webmasters blog post about what you need to be doing since the Preferred Domain setting has been removed from Search Console. And, while we're on the subject, you may also want to consider consolidating duplicate URLs (although this likely won't apply to many readers)
Responsive WordPress Development
A responsive website will automatically change its display based on the device it's being used on. This is why a website viewed on a phone should look different than when it's viewed on a computer or a laptop.
Because more than half of Google searches are done from a mobile device, Google absolutely loves it when WordPress designs are responsive because it ensures a mobile-friendly experience.
Many WordPress themes are already responsive but a professional WordPress development company can help ensure your site is properly responsive and mobile-friendly.
Https Secure & SSL Certificates
Why is "https" before your website's URL so important? It essentially secures the connection to the website for your potential traffic. This is extremely important to have for your WordPress because it secures any data and sensitive information that is entered on your page.
Even if you have no customer data collecting practices or no e-commerce taking place on your site or blog, Google still ranks secure websites higher than unsecured ones.
When a customer is on your website, ensuring that there is a secure connection between the browser and the site means there is zero possibility for someone to intercept the data that will be sent between the two. If you want to secure your site you will need an SSL Certificate. Not only will this ensure getting higher in SERP positions, but also further secures your website from prying eyes.
SSL certificates are not WordPress-specific, but you can usually get them from your web hosting provider or even your domain name registrar. Everyone should be using SSL, but anyone who collects any information from their readers should absolutely be using SSL.
WordPress Site Visibility Settings
WordPress is great about giving webmasters the ability to encourage search engines specifically when to start indexing your site, which is important because this is how your site will end up ranking on search results. When setting up your site you can toggle this option off in WordPress which can make it easier to design and set up your website and limit access until it's ready for the public.
If Google gets wind of your WordPress site while you're still working on it, you won't exactly get the best possible rankings. Sure, Google spiders will always come back later to crawl it again, but that could be a long time from their first crawl, especially if your site didn't have any content on it.
Just be sure to go back and turn the visibility back on, encourage the spiders to crawl, and upload your sitemaps once your WordPress site is officially ready to launch!
Verify Site with Google Search Console
As you are adding content to your website you will need to be able to check and make sure Google is crawling and indexing your pages. If you have not done so already, make sure you verify your website with Google Search Console so you can maximize the pages that Google has indexed for you.
Google Search Console and WordPress get along very well with each other. This is also where you will go to tell Google where to find your XML sitemaps that we talked about on our Best WordPress SEO Plugins.
Short URLs = Good URLs
Using permalinks to let WordPress generate URLs based on the category and titles of your posts or pages is absolutely great for SEO. Those of you who want to take it an extra step should based on your own keyword research, edit the URL slug to be shorter.
Make sure the URL slug still includes the keywords you're targeting, but the shorter the URL is the better. /you-don't-need-URLs-that-are-this-long/   –because–   /these-will-work/
Get More Backlinks
A backlink is simply a link from an outside source that will lead people back to your website.   It's one of the main optimization tools to maximize your SEO.  So if someone else links to your website on their website, it will provide a link where their readers can reach your account through one click. Google sees these additional links as a further endorsement to your website which can increase your ranking on their search results.
The more backlinks you have, whether through content produced through other creators or linked from your other websites, the more Google will see your content as quality. In short, the more backlinks there are out there linking back to your website, the higher your website will be ranked in SERPs.
Because WordPress users have ease of use on their side when creating content because there are easy URL slugs that look nice, and because of the blog/comment notification and pinging systems, getting backlinks with WordPress should be a breeze as long as you're producing extremely high quality and unique content.
Nofollow & Dofollow
Two additional important link attributes that bots will look for when crawling your site are follow and do not follow links. The terms directly define themselves: do not follow links will not be followed by bots, and vice versa.
If you have a link tagged as Dofollow, then bots will know to follow the link. This can directly relate to the traffic on your website and SEO rankings. These styles of links will form a channel from higher-ranked websites to lower-ranked websites and can be extremely helpful when you are first starting out on your website.
This is also useful if you have information that you want people to be forced to find through your website online, and not from a Google search.
High Quality & Unique Posts
It should go without saying that Google will prefer sites that have high quality and unique posts compared to those that are lacking. As simple as it may sound, the more effort you put into the writing on your website, the better return on search engines you can receive.
When you start writing about a particular topic, try looking over Google's good content guidelines. This will give you an insight into things such as length, structure, and search signal. In the beginning, it may be tempting to put lower quality writing on your website just to simply 'get something up on there' but this may prove detrimental to your site.
Think of it this way, if Google crawls your site and comes across a poorly written article that you posted solely so your website can have content, you don't know when they will crawl it again. So even if you go in and update the post, Google may still refer to that article as the previously written one.
This is why it's important to write content about topics that you're passionate about. Everything you write on your WordPress site or blog is going to be just like you have a conversation with your readers. If you're not having a conversation with your readers then Google will recognize this and may penalize you or stop crawling your site for a while because of it.
Final thoughts on WordPress SEO
So how do you ensure Google gives you the thumbs up?!  Write authentic pieces of content.  Most readers can decipher something that has been copied and pasted vs content that truly captures your brand.  Whether you are writing to educate, entertain, or create new opportunities, make sure you are focused on the unique value you provide to your audience.  Tell your story, stand-out, and establish your web presence!