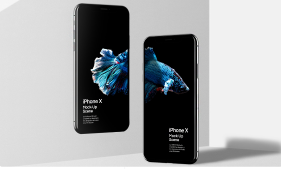 It is said that every sixty-seconds, 380 new websites are built on the internet (a HUGE thanks to WordPress).
One can presume that's due in part to the wide-range of built-for-you designs and templates optimized by Wix, Shopify, Squarespace, and more. The simplicity of picking out a pre-designed theme and plugging in a few catchy phrases is all it takes to get a semi-decent looking website up and running. Each of these platforms has specific benefits and caters to individuals on an entire spectrum of technical savviness. Wix often praised by entry-level users, and Squarespace has built a reputation for its professionally designed templates.  Luckily, WordPress has the best of both worlds.
This drag and drop solution has provided a gateway of new opportunities for bloggers, designers, and entrepreneurs to have their work, portfolio, or business established in a matter of days. While some are perfectly happy settling for a standard themed template, there lies an entire realm of designers with an advanced technical prowess ready to customize your site.  However, you should know that anyone can learn how to operate on an open-source platform. As the founder of Angel list pointed out, it's a matter of one's willingness to learn! How does WordPress define itself amongst other platforms? Two things come to mind.  It's open-source capabilities and a notable content management system (CMS).
Open Source: software in which the original source code is made freely available and made to be redistributed and modified.
Content Management System: with WordPress, users have full control over the files, documents, designs, and display of the content. In fact, you don't have to know a single line of code to publish content using WordPress.
WordPress 101
If you're eager to learn how to build a website through WordPress, you're not exactly joining a niche group. Roughly 35% of all websites built on the internet are powered by WordPress. While WP sometimes gets associated with a prerequisite to understanding computer programming, this isn't true. WordPress offers both done for you themes and plugins while  its open-source platform is used by new and experienced developers.  They've been able to attract a community of developers on their platform while promoting collaboration and inclusivity.  Both performance and security are highly prioritized.
WordPress Beginnings
WordPress has history. Like 1920's jazz music history.  A bit of a stretch given the internet only dates back to 1983. However, the creative folks behind the dominating CMS platform name all of their major software updates after major jazz artists. The gist of the story is that in 2003, Mike Little and Matt Mullenweg decided to fork off of the original software from b2/cafelog. They were looking to build something more personal and elegant. A publishing site that was flexible and would enable users to add and alter code. Fifteen years and twenty-some upgrades later, a third of the internet now relies on WordPress. Pretty groovy.
How It Works
What makes WordPress unique is that anyone is freely licensed to use, copy, study, and change the software in any way. The source code is openly shared so people are encouraged to voluntarily improve the design of the software. While it started out as a blog it has grown into a full-blown content management system and is now used to manage and build websites of all kinds. Another notable future is it's easy to use admin dashboard.  User can choose between themes, various plugins, and can enable multiple users.
Future Outlook
Not only does WordPress have six major updates planned in the next two years, but the developers also have their eyes set on the big picture. The four main pillars of improvement include easier-editing, customization, collaboration, and multi-lingual use.
Conclusion
Whether it's the branded popularity of a collaborative and forward-thinking platform or WordPress's clear dominance of web addresses; they continue to grow. By the time you've finished reading this post, thousands of new posts will have been published to the site alone! Then again, an astounding quantitative fact on the internet today will be history tomorrow.
Regardless, the best time to start your website? Right now.